Comprehensive Construction
Rietschlin Construction Inc is equipped to provide construction services for schools (from elementary to university level), highway departments, commercial companies, agricultural crop processors, and large general contractors. We are qualified for a wide-range of civil construction projects.
Work We Provide Includes:
Concrete structures and flat work
Culverts and bridges
Package treatment plants
Project cleanup and seeding
Road building and parking lots
Site preparation and grading
Storm and sanitary sewers
Waterlines and fire main connections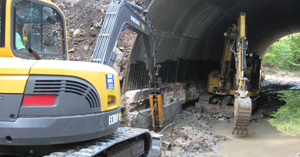 Consult With Us for Your Construction
Contact us
today at our Crestline, OH offices for your next industrial project.